Metal scrap briquetting machine
is the equipment that can press all kinds of metal scraps into high density metal briquettes of certain shapes, the metal briquettes are then recycled to the melting stoves. For all the metal types, the recycle of metal scrap is going to save a considerable amount of raw material cost, it is more obvious when dealing with the expensive and rare metal scraps. Before the metal melting in the stove, the metal briquettes quality is the main factor that can influence the efficiency and safety of the stove.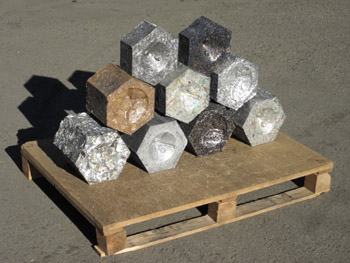 Metal Briquettes
The
metal scrap briquetting machine from GEMCO
has the following advantages:
1. The higher pressure makes the metal briquette produced with higher density;
2. The metal briquetting machine with the same capacity from GEMCO is much cheaper than the ones from other manufacturers.
3. It is manufactured with high automatic design, the easy operation requires less manual operation.
4. Higher density of metal briquette means lower rates of impurities, which is a key element of metal briquette quality.
Choose the metal scrap briquetting machine from GEMCO will be the decision that you'll never regret, the product and service will be the best you can have.