This metal scrap briquetting press is used to make compacted high density cylinder shape briquettes, suitable for briquetting of various metal scraps/cuttings that have plasticity under cold compressing, such as cast iron, steel, aluminum, copper, magnesium, titanium, molybdenum etc.
The use of final briquettes is for direct recycling and smelting in furance, thus reduce production cost efficiently.
Main tech-features: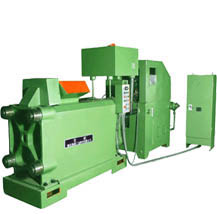 Eletric part is manipulated by PLC system,strong anti- interference, automatic and easy operation.
Tandem type oil cylinder, high velocity of movement and productivity.
Monoblock cast steel body, avoiding rupture of weld, stable and long life.
User self prepares helix feeder, chain discharge device and guard cove, according to work condition.
Advantages
Rugged construction
Low wear
Low electrical load relative to briquette capacity
Reduced costs of handling and shipping
Owing to small dimendions, connection to working machines possible
| | | | |
| --- | --- | --- | --- |
| Model | G83-160 | G83-230 | G83-300 |
| Nominal Force (KN) | 1600 | 2300 | 3000 |
| Briquetting size (kg/m3) | ¢90x(60-85) | ¢110x(70-120) | ¢120x(70-120) |
| Briquetting density (KG/m3) | ≥5200-5400 | ≥5200-5400 | ≥5200-5400 |
| Work pressure (Mpa) | 16 | 23 | 21 |
| Production Rate (Cast lron chip) (t/h) | 0.6-0.9 | 1.0-1.5 | 1.2-1.8 |
| Total Power (KW) | 24.2 | 39.2 | 47.2 |
| Weight(Kg) | 4500 | 7500 | 8800 |
| Outside Size (mm) | 4100x1086x2006 | 4100x1086x2006 | 5000x1600x2600 |